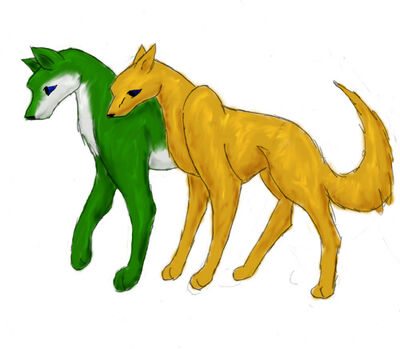 Khalor is the oldest of Chevis and KitKat's second litter and the new alpha to the Mt. Desri pack after his father's death. His remaining older siblings in the pack are Shultz and Mavra, and his younger siblings are Mucro, Dash, Draman and Altrean. He has four pups: Mucro II, Straife, Calhoun and Wyl.
As a pup, Khalor was quiet and serious. He befriended Kometto, and the two grew up to be nearly inseparable.
Unfortunately, Khalor's childhood was cut abruptly short as he was forced into an adult role while barely more than a teenager. His father Chevis was murdered by his own son, Slagar, and with Shultz showing little interest in inheriting the pack, the responsibility fell on Khalor's shoulders. Shortly after losing his father, his mother wasted away from grief and shock, leaving the thoughtful green lupe as an orphan and uncertain leader.
Luckily, Khalor is gifted with good common sense and loyal friends. He appointed Kometto to beta and began training young Ardeth, an uneasy pup from the neighboring Fire Eagles, as a warrior.
Fatherhood & Current Events
Edit
Following the Raid, Khalor and his small, loyal band began to really grow into their roles. Khalor accepted Bolt as his mate, but their romance was short and practical: He needed an heir in case something happene to him, and she was willing to supply one. Bolt was tragically killed shortly afterward while attempting to protect her pups and sister from an attack by the ESLP.
Now Khalor has shown few signs of seeking another mate, and focuses on watching over his pups alongside his loyal beta, lead warrior and other packmates.